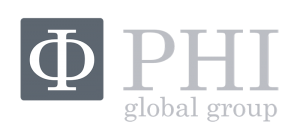 "In the PHI Global Group, we have put together the professionalism and expertise that in more than 30 years of activity have supported the growth paths of the companies operating in the travel industry, also pursuing shared common social purposes."
PHI Global Group conducts activities connected with accommodation around the world aiming – in particular – at the offer of hospitality, business intelligence, data analysis and technology solutions, as well as of entertainment products and services integrated with new location concepts, in terms of accommodation and recreation.
Values | Identity | Culture
Innovation to ensure its customers the constant implementation of service systems and models;
Know-how in Hôtellerie and in the management of and search for accommodation solutions, both professional and recreational;
Ownership of the information and computer management system with high development and integration capacities;
More than 28 years of experience at international level and the perfect knowledge of the promotion and sale channels of products and services aimed at business tourism and other markets, including those related to wine and food and new recreational concepts;
Expertise in promotion and advice to both hotels and the corporate sector for the definition of commercial and marketing plans, hotel programmes and business development;
The Research and Development centre that was set up more than six years ago, connected with partner Universities, and which specialises in the historical analysis of data and in the forecast of trends in the relevant sectors;
International presence with essential hubs for access to consolidated and emerging markets.
The Companies of the Group
PHI Global Group produces services and solutions that can be contained in three specific areas:
Advice
Statistical advice services for Hotels, Businesses, Travel Management Companies, airlines, rail companies, etc., that help Customers read, process and interpret data;
start-up services for opening Hotels or for their new positioning;
management assistance service for Hotels;
analysis services and marketing/sales plans for Hotels.
Technical
GDS connection services for Hotels;
configuration of specific files for statistical analyses;
market surveys and research; supply of technological supports and solutions (including software);
supply of IT or similar solutions for dashboards or other interfaces for data analysis;
Hotel research and selection services for the construction of Hotel Programmes for Businesses and TMCs;
services related to the organisation of events, concerts, music tours, theatre and musical shows, literary productions, etc.
Operations
Hotel management services;
hotel representation;
Crew Accommodation management services;
periodical data analysis;
occasional or systematic production of Reports;
management of agricultural sites or locations;
agricultural production;
hotel booking services;
management of theatres, museums, festivals, etc.